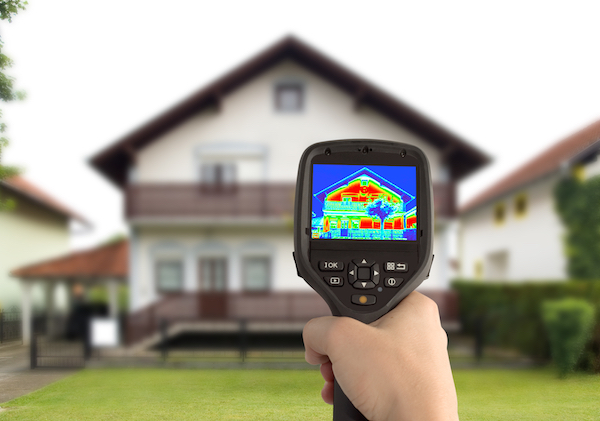 If your home or business property is not properly insulated or doesn't have enough insulation, it's highly likely that it's not as energy-efficient as could be. Also, if your energy bills are higher than normal or it feels drafty and uncomfortable inside, it could mean that your property needs more insulation.
And when it comes to insulating your building, you most likely want to ensure that the attic, ceilings, basement, or crawlspace are properly covered. But without a doubt, a great percentage of your property's insulation is likely to be found inside of the walls. When your walls are not insulated, heat will leak into your home in the summer and raise your AC expenses, and leak out of your home in the winter, raising your heating bill. To trap in the heat or the cool at the right time, exterior walls must be properly air sealed and insulated.
At The Insulation Company, we can install new insulation for new construction or additions and for older construction. The best part is that we can do it without making a big mess or tearing up your drywall. For decades, we've helped numerous business and homeowners in the greater Los Angeles area upgrade their energy efficiency levels, do their part to lower human impact on our environment, and stay more comfortable all year long.
Selecting the insulation material for your walls is a crucial step but it's also important that it be installed in a manner that maximizes its performance. At The Insulation Company, we have the experience, manpower, and tool necessary to quickly and appropriately install your walls. We always put safety first and are 100% bonded, licensed, and insured. We back our workmanship with a valuable limited warranty. For a free consultation and/or a no-obligation estimate, you're welcome to contact us today at 310-301-1818.
Walls That Need Insulation
Any wall with an exterior face needs proper insulation in order to maximize energy savings year-round. And if you want to attain optimal energy efficiency, you need insulation inside your walls too even if your siding has built-in insulation attached to it. You also need to install insulation inside of room-dividing walls that do not have an exterior face if you want to heat or cool specific room instead of your entire house. A wall between an unheated garage and your living space certainly needs to be properly insulated. Walls in crawlspaces, unfinished basements/garages, and the attic will get batts insulation.
Installation Techniques for Walls insulation
Typically, both blow in (loose fill) and batts insulation are used inside of wall cavities. Traditionally, Blow in insulation is more common with existing walls while batts is used on new construction, but this varies in some cases.
Batts Insulation for Walls
Batts are common with new constructions because of the impossibility to have them installed in old walls without tearing up the drywall and completely redoing it. For this reason, batts is a viable option in the case of a home renovation, a new construction, or an addition, where the walls are already opened up. Batts are sized by manufacturers to fit between standard-sized wall cavities. Otherwise, blown insulation is the way to go and of course, it can also be installed in new construction.
Because batts insulation tends to lose much of its R-value when compressed, it should never be compressed during the installation. And also realize that fiberglass batts come with varied R-values that are recommended for interior walls, exterior walls, basements, and attics.  While fiberglass is the most common and the least expensive type of batts installed in walls, there are other alternatives such as cellulose, mineral wool, cotton (recycled denim) and more, that may have a greater percentage of recycled material in them and offer a higher R-value.
Batts are sized during manufacturing to fit perfectly between studs (standard-sized wall cavities). Therefore, each batt needs only to be cut to length and pressed gently into position. To form a complete wall envelope, the paper backing of batts spreads beyond the insulation for about an inch, allowing for the pieces to overlap with each other and be stapled to the studs.
During the installation process, we notch around electrical boxes and cut around cables and pipes. We always exercise care to make sure that we don't press batts behind pipes. At times it's even best to use spray foam to fill in small gaps inside the wall that might allow for condensation to build up or for air to penetrate through. Many batts have a paper backing, which acts as a vapor barrier, but open-faced batts are also used sometimes.
In the case of exterior facing walls, a poly film that's vapor retardant may be installed over the batts and stapled to the studs to ensure that they stay in place. This will help maximize energy efficiency with the walls that could otherwise be the coldest.
Blown In Insulation for Walls
Blow in insulation can be installed in your walls either from the outside or the inside of the house. When it comes to blown in insulation from the exterior, our process involves lifting up sidings that might be in the way and then drilling 2-inch diameter holes between adjacent wall studs. Each hole is fitted with a hose and the inter-stud cavity is then filled. We can also use a patching compound and the cut-outs to ensure a solid plug-job.
The same basic procedure is followed when blow insulation is installed into your walls from inside of the house. The only difference, however, is that the holes must be drilled in the drywall. While we don't take care of the patch and paint process, we can help you get a top-tier expert who deals with that. Importantly, all the drilled holes must be fully repaired with drywall tape and compound in addition to sanding and painting.
Types of Insulation to Put on Your Walls
At The Insulation Company, we primarily work with three types of insulation, that is, cellulose, fiberglass, and Roxul Soundproof.
In addition to being the most affordable type of wall insulation, fiberglass also provides enough insulating power for most situations. Fiberglass insulation can also come faced, with additional vapor, fire, and air barrier protections. The tiny glass shards scattered all over the material give superior strength and durability, while the fibrous material creates numerous air pockets that make for a high R-value. Nonetheless, fiberglass can be very itchy and calls for the use of full protective clothing, gloves, and a face mask. For this reason, it should not be left open in a room that is frequently used.
Cellulose is considered eco-friendly because it is manufactured from recycled cardboard and paper. This type of insulation packs tight, limiting the amount of oxygen within the material and is also treated to make it insect, mildew, and fire resistant. Though cellulose costs a little more than fiberglass, it does not have the itchy quality of fiberglass.
If you're looking for a type of insulation that offers great energy efficiency and is also soundproof, Roxul Soundproofing Insulation is an excellent option. Even with batts, it's possible to dampen the sound a little bit by caulking along the bottom plate and between top plates, but the effect is limited. If your wall is already insulated, Roxul can lay right over it.
Roxul is manufactured out of recycled metal slag and volcanic basalt rock. The material is resistant to almost everything and also has a huge R-Value. Roxul is also a very eco-friendly product as it uses natural and recycled materials. The main reason for getting Roxul is because it's today's top of range sound barrier insulation product.
How Much Can You Save With New Wall Insulation?
There is really no a one size fits all answer to this question owing to the diversity of building sizes and shapes, energy usage, types and amounts of insulation used in walls, and other factors. But remember that uninsulated walls are continuously leaking energy, increasing your utility bills dramatically every month. A major contributor of energy loss and high gas and electric bills is lack of sufficient or proper insulation, in addition to ineffective HVAC systems and air leakage.
About 35% of the heat lost from most buildings happens when there is a leakage through the walls. We know that heat rises and naturally would leave through the attic, accounting for 25% heat loss. The reason for the variation in these figures can be traced back to the fact that many more individuals have their attics properly insulated than their walls. In addition to losing hundreds of dollars every year, uninsulated walls also intensify the demands placed on power plants that burn fossil fuels and adversely impact the environment.
An average household in the United States spends about $114 or more every single month on electricity, according to the Energy Information Administration (EIA). Heating and cooling alone account for about 55% of the bill. If you manage to reduce your home's heating and cooling expenses, for example by 35% that could save you hundreds of dollars every year for decades.
The Significance of Air Sealing
In addition to the full insulation service we offer, you can also rely on us for accompanying services such as air sealing. If there are drafts in your attic, wall, ceilings, or wherever in your home, air sealing can counteract. While these gaps appear minor, they can have similar effects as leaving a window or door wide open. Also, water vapor can condense inside walls and attics as a result of air infiltration, which makes insulation wet and ineffective. The ultimate result is mildew and even structural damage. It makes little sense to leave holes in your house if you're going to insulate because air leaks can pull right through insulation products. 
The main reason why air sealing is significant is that it addresses the subtlest problems that have serious effects.  For instance, the chimney effect is a structural issue where air enters the home through defects in the foundation traveling up through the home and out the attic. This cycle wastes more energy than anyone could imagine. The chimney effect not only wastes energy and money, it also reduces the performance of insulation. The R-value does not take airflow into account. When air travels over insulation, it reduces its performance thus furthering energy loss.
To ensure an optimum R-value, a proper air seal must be maintained in the area to be insulated irrespective of where you plan to install new insulation or what type of insulation product you plan to use. When we mention Air sealing, we are thinking of building envelope, a layer that separates the external and internal environments of a home. According to the US Department of Energy, sealing work alone can help save upwards of 10-20% on a home's energy bill.
Our goal is to ensure that your energy bills are more manageable, and your home becomes more comfortable. At The Insulation Company, we offer air sealing services to our clients at the same time we install the insulation itself. We can do air leak inspection to determine if your home has significant leakage and if so, locate the leaks. While we often do these tests before installing new insulation, we can also test for air drafts separately. But although it helps a great deal, it cannot be used to replace the insulation.
Determining How to Insulate Your Walls
Now that you've made the decision to have your walls insulated, what the next step? You have to decide the type of insulation that will be installed and whether it will be batts or blow in. If you go for the blown in option, you'll also have to decide whether you want it blown in from outside or the inside of the wall.
Having your insulation blown in from outside is a great option if you don't want to damage your drywall (although the holes can be fully repaired). However, if you have stucco instead of easily removable and repositionable wood, vinyl, or even aluminum siding, blow in from the inside might be the best option.
Choosing between blown in and batts insulation is crucial, especially when dealing with a newly built construction or a wall opened up for a home renovation project. There are many factors that go into choosing between the methods of installation and the insulation product that is environmentally-friendly, has enough R-value, and still fits your budget. We at The Installation Company are experts in all these aspects and our team is composed of well-trained professionals. We can help you understand and weigh all of these competing factors so you can make an informed decision that you will greatly benefit from for many years to come.
Why The Insulation Company?
At The Insulation Company, we understand the competitiveness of the insulation and energy efficiency market and for this reason; we never take your business for granted.  Our team works tirelessly to deliver superior products and services to our clients that will set us apart from the competitors. Based on our overwhelming positive feedback and reviews we receive both on online platforms, the large percentage of news we get on referrals from past customers and our extremely high customer satisfaction rate, we believe that we are truly our objectives to be real industry leaders.
We treat all our clients with the respect they deserve and put a high premium on excellence in customer services high work ethics, and true workmanship. In addition, we can take care of all your home or business property insulation and energy efficiency related needs. In fact, we are a one-stop shop for a full energy upgrade and once you hire us, you save time and money since you don't have to hunt up different companies to handle different tasks.
We at The Insulation Company are deeply experienced in insulating walls to attain optimum R-values and in assisting homeowners to upgrade the eco-friendliness and energy efficiency of your entire building. We've had a big impact in the Los Angeles area over the years and have played a role in lowering the carbon footprint.
Contact The Insulation Company today at 310-301-1818 to learn more about wall insulation and/or for a free, no-obligation consultation. We can give you a free quote and help you get started on upgrading your home to become more energy-efficient.