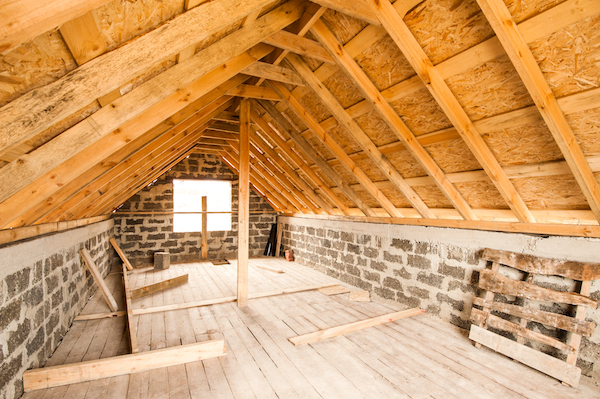 There's no getting around it: Keeping warm during the winter months is costly and you'll definitely see a spike in your energy bills. Sure, you can you can get used to dialing down your thermostat and wearing huge sweaters. But if your attic is properly sealed and insulated, you'll have managed to keep a secure, heat-impermeable lid on your heating bills. About 97% of the outdoor heat that would infiltrate your home's livable space can be blocked by expertly-installed insulation.
Your attic is different from the rest of your home and the temperatures there can reach up to 125 to 130 degrees in the summer. Most of that heat comes from outside. That air slowly permeates throughout your home as it is absorbed in your attic. According to the Department of Energy, insulating your attic slows down the migration of heat through your attic and can help shave 10-50% off of your energy bill.
Why should you pay to heat and cool the outdoors? Insulate your attic now! At the Insulation Company, we are highly trained, skilled, and experienced insulation experts. From the first call to completion of your project, we put true workmanship into everything we do. We're here to improve your home's ability to stand up to heat and cold, lowering your energy costs. Our professionalism exceeds expectations. We can conduct a free insulation inspection to analyze your attic space and the need for re-insulating. Contact us today for an estimate.
Reasons Why You Should Insulate Your Attic
There's a wide range of whys and wherefores to have your attic insulated or re-insulated:
If your home was built before 1990, it may have been insulated with asbestos-containing products. You can trust us to safely remove it and install new, eco-friendly insulation that meets the set standards

Your old insulation may be water-stained, covered with mildew or mold, or compressed in a way that compromises the effectiveness

You want to attain and maintain comfortable temperatures faster and more precisely

You want to reduce noise levels by dampening sounds that get into your home through the ceiling or your walls. While any insulation can be effective in this regard, soundproof insulation is an excellent option that delivers exceptional soundproofing and insulation benefits

You want to reduce energy use and waste without doing it at the expense of your comfort. Your attic insulation will be environmentally friendly and energy-efficient

You want to avoid moisture build-up that may promote the growth of mold and mildew, cause paint peel or windows fog, damage drywall and wood, compromise the quality of your indoor air, and even damage the insulation
Sealing Leaks Prior to Installing Attic Insulation
Air sealing is one of the most important components in improving energy efficiency. An air leak or thermal bypass can be just about anywhere in your home from your walls, light fixtures, chimneys, and plumbing stacks. Air leakage accounts for 25-40% of your heating and cooling bill and also reduces the effectiveness of high-performance windows or increased insulation.
Drafts can pass right through the insulation and that's why it's important to have your attic air sealed beforehand. Air sealing involves finding and sealing all air leakage points in your home. This procedure may significantly create a healthier indoor healthy environment for your business or home and improve building durability. The experts at The Insulation Company can inspect and test your property for air leakage and come up with a plan to effectively air seal. It's an incredible process that will stop unwanted air movement, keep off pollutants and pay off in real dividends on a month to month basis.
How much Attic Insulation Do You Need?
If you're among the 90% of Los Angeles homes that are under-insulated, you can determine your insulation needs by having a simple insulation inspection. The pros at The Insulation Company can go up into your attic, analyze the condition of your current insulation, and calculate the current level of insulation. If your insulation does not measure up, we can recommend the level of insulation needed for your attic, depending on your heating and cooling needs.
The amount of insulation needed for your home will vary based on your home's age and where you live. For instance, if your home is more than 10 years old, there's a high probability that you'll need more insulation.
Insulation is identified by R-Value, which is a measurement of the insulation material's ability to resist heat conduction. Insulation products with higher R-Value typically have high insulating power.  The Department of Energy recommends an R-38 for most attic insulation or about 10 to 14 inches based on the insulation type. But the minimum for cold climates is R-49, for temperate climates R-38 and R-30 for warm climates.
At The Insulation Company, we can explain the difference in R-values of different types and brands of insulation and help you understand what would be the best for your property. The products we use will give you great R-values for the price and remain effective for longer when compared to most other insulation. We can install new insulation or add to what you currently have if it has a low R-value or has deteriorated.
Radiant Barrier in Your Attic
Our attic insulation targets spots in your home or business property most susceptible to engrossing and allowing outside temperature to trickle in. With the constant warm California climate, we also recommended the installation of a radiant barrier in your attic to help reduce heat gain. Radiant barriers comprise layers of aluminum foil that is highly reflective and tends to bounce back the heat from getting into your home through the attic ceiling. The material also has low emissivity, keeping excess heat out of your home.
A radiant barrier cannot be installed alone; it should be used in addition to quality insulation. But even with that, it helps boost the overall R-Value to a new level that couldn't be attained without it. The Insulation Company radiant barrier insulation involves stapling the foils onto the under deck of the roof until fully covered. This helps prevents heat from penetrating through your attic.
Attic Insulation Removal and Replacement
The Insulation Company can help if you need your old or damaged insulation done away with. We can remove the insulation, clean the space, seal all air leakage points, and install new, quality insulation. We know how significant it is to have a clean attic. Irrespective of your insulation removal and installation needs, our team of experts serving Los Angeles and Southern California will effectively meet them.
We offer different solutions, including:
Elimination of odors

Mold remediation

Removal of dead animals or carcass

Cleaning droppings and urine from previous rodent infestation

Allergen alleviation

Removal of contaminated insulation

Fine cleaning with hospital-grade disinfectant
Whether you need to insulate the attic of a new property being constructed or need to remove old insulation and install something new, rest assured you're in good hands with our team. We have comprehensive experience in optimally removing and replacing attic insulation in Los Angeles and Southern California homes of all descriptions and ages.
Types of Insulation to Have in Your Attic
What type of insulation can work best for my attic? That's a question we are frequently asked by our clients in Los Angeles and you're probably asking yourself the same. There's no one-fits-all answer to this, but we always do our best to help our clients understand the differences in the materials and methods used in attic insulation. After the on-site assessment, we'll discuss your insulation needs and how different materials are rated.
When choosing your insulation, you need a material that completely fills every space to bottom, front to back and every cranny in between. We can install batts or loose-fill insulation in your attic with so much precision. These insulations are also available in a variety of materials, each with its own characteristic and benefits.
About Batts Insulation
Also known as blanket insulation, batts is the most common and widely available insulation type. It's solid in large compressed bundles of varying thickness and width and typically comes in foil or paper backed rolls. It kind of looks like a blanket and is laid out flat between rafters in your attic. This type of insulation gets it R-Value by trapping air in between tiny fibers. The air pockets work by slowing down heat as it tries to move through the insulation.
Batts insulation should not be compressed to avoid squeezing out the air pockets and reducing the material's R-Value. Batts are pre-cut to fit in between standard-spaced studs while rolls are a long, continuous type that's cut at on-site.
Blown Insulation
This consists of small particles of mineral fiber, melted glass, or rocks. Loose-fill insulation can be used in new construction and existing homes as well. This type of insulation is an excellent option for attics and other odd shaped and difficult to access areas. The insulation is blown into the designated space using a powerful machine known as an insulation blower. As the insulation flies out of the hose, we direct the flow is directed into place.
And because these tiny pieces of insulation spread evenly throughout your attic, they fill in the spaces very effectively and more compactly compared to blanket insulation. Loose-fill is a great option if your attic has many obstructions or lacks standard joists spacing.  It eliminates gaps and voids that would otherwise compromise the insulation power of your attic insulation. The Insulation Company, we can blow loose-fill insulation into your attic without destroying the walls. We cut a small hole into the walls and pass the tube through it.
Types of Materials
Fiberglass: This is the most common type of insulation that is made out of sand and recycled tiny fibers of glass- it's the fluffy pink insulation you've probably come across before. It can be either a blanket system or blown in. It is very lightweight and can be a perfect option for your attic. But it must be handled with extra care because it can irritate skin or lungs if inhaled.
Cellulose: This is one of the most eco-friendly types of insulation and has a higher R-Value than fiberglass. It is made up of 80% recycled newspaper and is treated to make it insect and fire-resistant. It's also ideal for soundproofing.
Mineral wool: Made out of metal-slag and rock material, mineral wool is highly resistant to almost everything, offers better soundproofing, and is highly insulating. But it is more expensive.
Cotton: Recycled jeans are used to make this type of insulation. Cotton insulation has a very high R-value and soundproof, but it does cost more than most other materials.
We Can Help You Get Rebates
At the Insulation Company, we have an understanding of government-sponsored incentive programs and rebates that can help you save money. California invests in home and business owners who upgrade their energy efficiency in order to help lower the carbon footprint. We can find out which programs you'd be eligible for.
At The Insulation Company, we're committed to helping property owners save money by boosting their energy efficiency and lowering electricity/gas costs. We can give you're a quote over the phone based on the information you furnish us with. But for an accurate quote, we'll assess your project and schedule the start date for your project.
Benefits of a Well-Insulated Attic
Most individuals know that they should have their attic insulated, but what are the actual benefits brought about by attic insulation? Here are the 3 most common attic insulation benefits.
Most property owners in Los Angeles experience a high amount of energy savings due to greatly reduced heat loss. In addition, attic insulation can help you keep cool air during hot weather. This translates to hundreds of dollars in savings over the life of your insulation. A properly insulated attic can cut down your energy spending by up to 50%.
How much you save will be determined by numerous aspects, including the shape of your house and attic, the area's climate, and the type of heating system. This investment can make a dramatic change, particularly when it comes to buildings constructed earlier than the 1980s.
Reducing the Carbon Footprint
The first benefit is enough if you care about your wallet. But you're certainly going to find satisfaction if you're looking to play your role in protecting the environment. According to Department of Energy, having your attic insulated is one of the most significant energy saving developments worth completing in your home or business. 
Simply put, the energy saved as a result of attic insulation means there's less need for energy creation. And when power plants are not working to produce more energy, pollution reduces since most of the plants have byproducts or waste that's harmful to the environment. Reducing our energy use reduces our carbon footprint and can also have a big effect on local ecosystems.
Preventing Moisture Damage
If your attic is not well insulated, the rising heat might result in melting snow on your roof, which can then bring about the occurrence of ice dams. Condensation, the prevalence of moisture, and ice dams can gradually cause tenacious damage in your home.  
Also, moisture can percolate inside and wet the insulation, compromising its effectiveness at keeping the heat inside. With time, this turns into an atrocious cycle of long-term damage. The Insulation Company can help you avoid a few headaches down the road by checking, sealing, and replacing/installing new attic insulating.
We at The Insulation Company understand that attic insulation in your home or commercial property is a major line of defense against harsh weather conditions, moisture, unwanted creatures, cold, and heat.  Since attics are not commonly padded with flooring or drywall, the kind of insulation you have up on your walls is the only barrier your attics have. 
In other words, to deter pests and optimally keep your home's heating and air conditioning costs down, properly installed insulation is a necessity. The Insulation Company is ready to ensure your home or business property stays comfortable all year round.
We promise you the same level of unmatched service and technical proficiency we've provided the residents of Los Angeles over the years. If you have any questions concerning attic insulation or would like to schedule a consultation, contact the Insulation company today by calling 310-301-1818. We would be honored to help you.