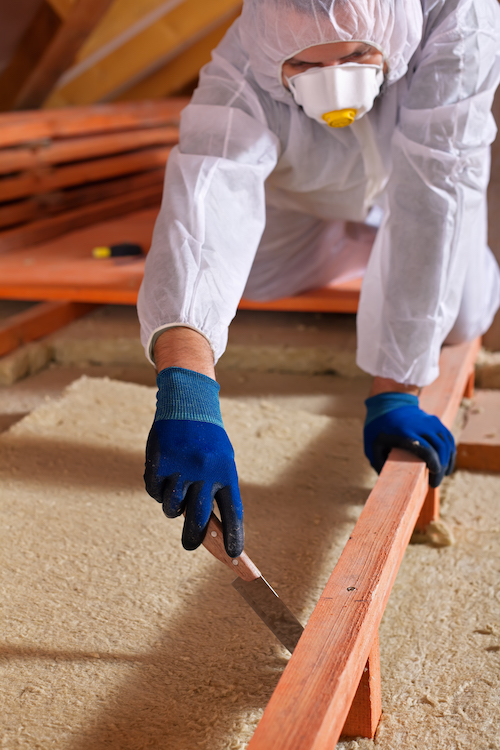 The old adage "out of sight, out of mind" rings true when it comes to crawl spaces. When homeowners want to improve energy efficiency and reduce utility bills, they're apt to replace drafty doors and windows or insulate ceilings, walls, and attics, but the crawl space may be the last thing that comes to mind. Unlike other parts of your home, the crawl space is rarely used, seldom seen, and often neglected.
But crawl spaces present one of the best opportunities to save energy in your home. In the warmer months, heat can collect in the crawl space, resulting in the loss of cold air that's generated from within the house. During the colder months, on the other hand, drafts of cold air will cause the loss of heated air lowering the overall temperature of your house. When the heat is lost from your floor due to an uninsulated or poorly insulated crawl space, the cold air from underneath will create a chilly surface, resulting in cold floors in the winter.
Even with proper finishing on a crawl space, the insulation may be or contaminated from water damage, pests or rodents, improper ventilation, and age. It's unfortunate that these things are bound to happen but repairing or replacing your crawl space insulation is an easy and convenient process with proper assistance and tools. Just as it's important to make sure that your crawl space is not affected by moisture, it's also imperative to prevent drafts and unwanted air from increasing your energy use.
At The Insulation Company, we've helped many home and business property owners in the greater Los Angeles area upgrade their energy efficiency, reduce their carbon footprint, and improve indoor air quality with top-tier crawl space insulation. We are skilled and experienced in properly insulating both unventilated and ventilated crawl spaces, enclosing the space underneath your home in a thermal envelope. For a free, no obligation consultation and quote, contact The Insulation Company today by calling 310-301-1818.
Benefits of Insulating Your Crawl Space
If you realize that your thermostat is set to a high temperature, but you still have to put on bulky sweaters of the floors in your house still feel cold, it's most likely that your crawl space could use some new or extra insulation. There are many reasons why residents of Los Angeles choose to have their crawl spaces insulated and each property owner's priority may be different. But the fact is that the insulation in your crawl space and brings multiple benefits to those who have it done. Some of the benefits you'll notice include:
Longer-Lasting HVAC Systems
Most HVAC Systems break down prematurely because they work harder than they ought to. But if your crawl space is well insulated, attaining favorable temperatures becomes easier and your system won't have to strain in order to meet your heating or cooling needs. When combined with the rest of your home's insulation, a properly insulated crawl space helps keep outside air infiltration to a minimum, providing your HVAC system with the rest it needs to be functional and effective in the long term.
With energy efficiency comes great saving capabilities. Many homeowners report that they recover their investment after having their crawl space insulated and they also don't have to worry about paying so much when their heating and cooling systems are running. And for the reason that you don't need to keep your systems running for as long, you'll be able to save more money to the point where your insulation projects end up paying for itself.
Mold spores, bacteria, dust, allergens, and all forms of irritants can find their way into your living space air from the crawl space. But when the insulation is properly installed in your crawl space you'll have a much easier time keeping out all manner of irritants, especially if you reside in an area with heavy amounts of local pollen and allergens. Poor indoor air quality can cause numerous respiratory problems such as aggravation of asthma, allergies, and other health conditions.
Prevent Undue Moisture Accumulation
Insulating you crawl space can also help avert moisture from accumulating in your home. When the air in your home is too moist, it can cause the growth of mildew or mold, leading to damaged drywall and wood structures as water condenses on the wood trim and walls. Excessive moisture may be originating from your crawl space but can be stopped with sealing, insulation, and a vapor barrier. You'll also be able to keep insects and rodents from getting into your crawl space.
Once you have your crawl space has been expertly insulated, you'll no longer have to wake up early in the morning and walk on chilly floor tiles or boards. And you'll feel the increased level of comfort through cooler indoor air during the summer and warmer indoor air during cold L.A. season.
Choosing the Best Crawl Space Insulation Material 
Fiberglass batts insulation is the most common type of insulation installed in crawl spaces. The material is installed between exposed joists on the crawl space ceiling. Fiberglass is widely available and cheaper than other types of insulation. Cellulose is another commonly used insulation material. It is also available in batts rolls and be installed in a similar manner.
According to the Building Science Corporation, the insulation of crawl space walls should be done with a water-resistant material that will work to stop indoor air from getting into contact with the surfaces of the basement. Interior air is usually rich in moisture and allowing it to make contact with the cold basement can result in condensation and promote the growth of mold and mildew.
Loose fill insulation can also work for your crawl space but the installation would necessitate the use of plywood or another similar structure to hold it in and up. This is why loose fill is not commonly used in crawl space insulation. Another material that can be used in crawl spaces is rigid foam board insulation. The product is more expensive than batts, but it has a higher R-Value and is great at reducing drafts and moisture accumulation.
The rigid foam insulation board is the best option for crawl spaces. Unlike other insulation materials that are placed between the rafters in the crawl space, the foam board is fitted against the crawl space foundation walls. Rigid foam insulation is non-water sensitive and doesn't absorb moisture, harbor mice, support mold, or allow air to pass through it (so long as the joints between the boards are properly sealed with tape).
Our Crawl Space Insulation Process
At The Insulation Company, we provide exceptional crawl space related services such as air sealing, installation of new insulation, and rodent proofing. Normally, these services are combined to ensure complete crawl space repair. Since there are varied types of crawl spaces and in different conditions, the services needed for your crawl space may not be the same as what other homeowners need. And if your house does not have a crawl space, your unfinished basement may need insulation to improve energy efficiency. But even with the differences, we give you a picture of our typical crawl space insulation process.
Examining Your Crawl Space
The first step to creating an effective crawl space is to investigate it to see how it's built. We also take measurements to determine how much square footage of insulation will be needed. The inspection will allow us to see if your crawl space is ventilated or if there's need for additional or new vents. After the inspection, we'll be in a position to give you an accurate estimate than what you're given over the phone.
Cleaning and Preparing for Insulation
The next step is cleaning up and preparing the crawl space for insulation. If there's stagnant or pooling water, it may be necessary to eliminate that and also avert re-entry by suggesting that unevenly sloped land near you foundation be re-graded or your downspouts are extended further away from the house. Also, you may want to waterproof your concrete or add a sump pump.
Our team will go into your crawl space and remove dirty insulation, rotten woods, fungi, debris, animal contamination and feces, carcasses, and anything else that could degrade the efficiency of your insulation or air quality of your home. We also ensure that your crawl space is fully prepped prior to putting in the insulation.
Another vital element of our prep work is sealing for air and preventing insects and rodents from getting into your house. Air leakage in crawl spaces occurs at chases for plumbing, ducts, and flue pipes, and also where plumbing lines and electrical wires are cut through bottom plates. Air sealing may involve plugging holes in the crawl space ceiling or walls with concrete patching, plywood, caulk, or another appropriate material. It could also involve sealing vent openings or covers, sealing around hatchways, sealing rim joists and sills, and other access points.
After successfully cleaning, making all the necessary repairs, and completing air sealing we then move on to the next step: putting the insulation in. Insulation can be installed either on your crawl space wall or ceiling. Insulating the ceiling is convenient if you have no ducts or pipes in your crawl. But if these items are present, it's imperative to also include crawl space wall insulation. In fact, insulating the walls is beneficial because it helps prevent moist outdoor air from finding its way in and condensing on the cool concrete.
At The Insulation Company, we use environmentally compliant materials and always install each type of insulation in strict accord with manufacturer's instructions. Also, we ensure that the insulation fills inter-stud spaces and is firmly secured. But since there's a high likelihood of moisture and condensation accumulation, even after ventilating your crawlspace, you'll also need a vapor barrier.
The Vapor Barrier Installation
Soil gases, contaminants, and moisture are constantly drawn up from the ground through the foundation. We can install a vapor barrier over your new crawl space insulation to prevent moisture and condensation buildup, dangerous off-gassing, as well as the sagging that results from the accumulation of moisture. For more anti-moisture protection, we can cover your crawl space floor with a polyurethane vapor barrier and then add sand on top.
Fiberglass installed in a crawl space can get dirty, soggy, and heavy over the years and that's why we highly recommend you add a vapor barrier over new insulation. Your crawl space could become a cozy home for rodents and insects if it's lacking a protection. A vapor barrier also keeps you support beams, foundation, and home air quality safe due to the elimination of moisture. It also protects your investment in new insulation, ensuring it works at the highest possible level and your home making a comfortable place to live.
Therefore, vapor barriers are a routine part of crawl space insulation projects using fiberglass. While another type of insulation might effectively work without a vapor barrier, fiberglass is still more affordable even with a vapor barrier added.
Why Should Choose The Insulation Company for Your Crawl Space Insulation
When it comes to insulation installation in Los Angeles and Southern California, The Insulation Company has it all. Our insulators are trained in high efficiency insulation systems for new constructions sites and weatherization protocols for existing homes. We stand ready to serve you and provide you with top quality home insulation or commercial insulation.
We are committed to offering our customers highest quality insulation services but don't just take our word for it. Check out what our customers have said. Our customer satisfaction rate is remarkably high, and the greatest percentage of the business we receive is through referrals from our previous customers. These are clear indications that we're meeting our primary goal of improving energy efficiency and increasing the comfort of any building in L.A.
We care about the planet and the people on it and that's why we choose to be green. We are a fully licensed, bonded, and insured insulation company. Because we put safety first in every project, we do not take unnecessary risks but work in an orderly, streamlined way that always prevents any safety hazards.
At The Insulation Company, we understand how competitive the market is and that's why we work hard to be the best in the business and ensure that every single client is fully satisfied with our services. We stay ahead of the competition by more than our affordable prices and top-tier services. We stay up-to-date with local trends and always help our customers choose the highest quality insulation products for their projects.
At the Insulation company, integrity, quality, technical knowledge, value, and exceptional services are not just buzzwords, they are our guiding principles. We treat each of our customers as if they were a part of our own family and you can expect us to handle your crawl space insulation project in a manner that you would want it to be handled. We thoroughly clean up after ourselves and we'll leave your property better than we found it.
What's more, our team of experts upholds a high work ethic and will work on your schedule. As such, you can count on us to come to your home or business as planned and to complete the project seamlessly and in a reasonable amount of time. We offer our customers free, no-obligation estimates over the phone. But we can give you a more accurate quote after the initial assessment of your crawl space. You can rest assured that we're honest and don't have any hidden costs.  
At the Insulation company, our primary goal is to help L.A. residents achieve cost savings, greater comfort, and reduce their carbon footprint. What's more, we are familiar with numerous rebates and incentive programs and can help determine which you may qualify for. We'll also handle the administrative processing of the program you choose. Insulating your crawl space or any other area of your property not only enables you to receive money back on your investment but also makes it easier to afford the improvements.
Many property owners have relied on us to help keep their homes as well as business properties energy efficient and comfortable for years. Contact us today at 310-301-1818 for a free, no-obligation crawl space insulation consultation and a quick quote.